Zloduska
Archon






Gender:


Posts: 113
Reputation: 8.34
Rate Zloduska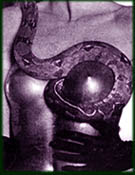 Handcuffs are for amateurs.




Muholland Drive
« on: 2002-03-11 22:22:16 »
---
The new David Lynch film. I saw it a couple weekends ago, and I loved it, but I couldn't exactly figure it out. Perhaps I was too distracted by the mouth-watering lesbian sex scenes, but I couldn't quite understand the enigma of what is actually happening. The friend I was with has watched it several times since and still cannot grasp the plot twist. I have read numerous reviews, and they all allude to some kind of complex meaning, which I seem to be missing.

If any of you have seen the film, can you either explain, or better yet, point me to some kind of critical essay on the Internet that dissects the film? And do you think the actress who plays 'Rita' really digs chicks?

Danke.