Hermit
Archon








Posts: 4269
Reputation: 8.96
Rate Hermit





Prime example of a practically perfect person




The most beautiful artifact I have seen
« on: 2007-08-31 11:21:34 »
---
Random Calliope's Little Jimmy Brown

Many of you have heard me commenting favorably on the work of Random Calliope, whom I regularly describe as Second Life's preeminent jeweler. This is possibly, like his works, an understatement. Unlike most Second Life artists, Random Calliope uses no "bling" (scripts to impart an artificial glitter to objects in a world where reflection does not yet exist), nor even "texture" (graphics to establish the appearance of facets and other surface conditions), but rather designs his works so that they capture, toy with and scintillate in a fascinating harmony with the devastatingly pure tones of Second Life's illumination. His works are remarkable in that they combine the most amazing complexity of design, with insane attention to detail in implementation, to produce works which appear deceptively simple, understated ornament, lifting pounds of weight from the shoulder's of their bearer and making the lucky person adorned with them feel the equal of any beauty of ages past.

Random Calliope has surpassed himself! This is, bar none, the most beautiful jewelery I have ever seen. Regrettably the visual impact of this piece cannot be captured in photographs, or even, it seems, in static displays, as this creator's works borrow motion and life from their wearer, and return it with munificent interest, in the form of a shimmering, living dynamism which, for once, really does have to be seen to be fully understood. The still image does not, cannot, begin to do it justice, or if it can, it will take a far greater photographer and graphic artist than I. Having said that, here is my attempt to capture the essence in a picture and words, as a tribute to this most brilliant work from the most brilliant and generous craftsman I know.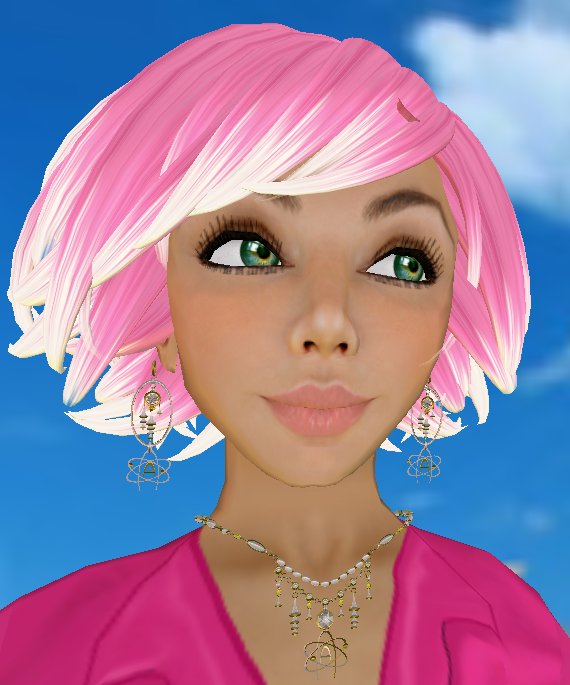 This work deserves reporting here, not only because it is something rare and wonderful in a world full of rare and wonderful sights, but also because this alternative work, provocatively and contrariwise still titled, as its crucifix bearing prototype is, "Little Jimmy Brown" (the name of a rather twee folksong about a life tolled in church bells), not only announces, but also celebrates Atheism, making it a jangling response to those creatures wandering around our worlds thrusting the image of an ancient torture device into our awareness. For once, an artist has made it possible for Atheists to get the non-sticky end of the stick. Yet another reason, to say, "Thank-you Random Calliope, I salute you."